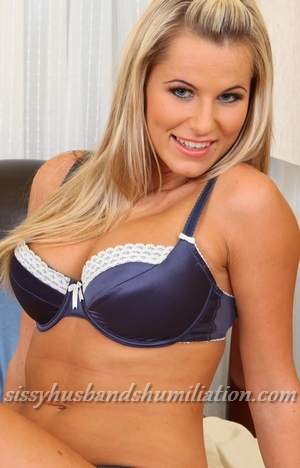 There's a lot more to the art of sissy humiliation than just giggling and saying, "Oh, look, you're wearing panties!"  Not that there's anything wrong with that but it's such a turn on for me to push my sissy husband's humiliation limits so I wanted to take things beyond the feminization dress up play he'd done before.  I wanted to find something that would really make him squirm either because it was something that had never occurred to him before. Or even better, because it was something he'd fantasized about but was far too embarrassed to admit to me.
I started researching feminization sites on the internet and eventually stumbled on a site about sissy maids.  It was so exciting!  All these photos of men dressed in frilly french maid's dresses and frilly undies and outrageously high heels. As soon as I saw it, I knew that my sissy husband was about to become my humiliated sissy maid.
First step was finding a sissy maid dress for him.  There were so many that it was hard to choose one but I finally picked one and ordered it along with all the accessories.  Lacy sissy panties, garter belt, lace top thigh high stockings, 5 inch high heels and a curly blonde wig. It was not long before his new outfit was delivered. Since it's for a sissy maid, it's pink rather than the traditional black, but otherwise, it's a standard French maid's outfit.
I didn't tell Eric about my purchases beforehand.  I couldn't wait to see how he'd react when I pulled out his new sissy maid outfit and surprised him with this brand new twist in sissy humiliation!  Want to find out the next round of my husband's humiliation went? Stay tuned for my next post for more details but I will tell you this. Even though Eric likes humiliation, I think he's finding that sissy maid humiliation is an even more intense mindfuck than he was expecting. He had no idea how much I would love the feeling of his total vulnerability and my utter control over him along with my glee at humiliating him past what he believes he can handle.