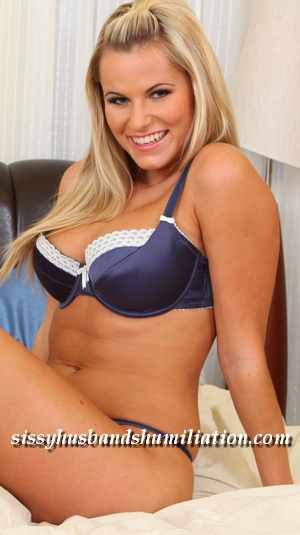 Are you the kind of person who believes everything happens for a reason? I am. It hasn't always been that way for me, but a series of fantastic events ended up changing my mind.  I'd never have dreamed I'd find happiness as the wife of a humiliated sissy husband or the fun I'd be having doing sissy humiliation phone sex.
My husband Eric and I have been married for several years. When we first started dating, and through the first few years of our marriage, even, we had a fairly "vanilla" relationship. A couple of years ago, however, that all changed.
I came home from work early one day to find Eric, my adoring husband, sprawled out on our bed and wearing items he'd clearly pilfered from my lingerie drawer–a matching bra and panty set and stockings–and a pair of heels he'd taken from my closet. There were more pieces of lingerie, along with some sex toys and possibly the largest bottle of lube I'd ever seen, on the bed with him, like the pathetic little sissy husband in some sort of third-rate porno.
At first, I was shocked. Shock rapidly turned to disgust, and disgust even more rapidly turned to anger. Things soon escalated, and before I knew it, I was shouting at him and threatening to leave him. At one point, I even slapped him right across the face as he tried to apologize and beg me not to leave him. It was quite the little soap opera-esque scene, to be honest.
But then, something unexpected happened. I began to notice that the anger I was feeling was dissipating, only to be replaced with something that strangely resembled…desire? There was just something about seeing my husband's humiliation, so abjectly submissive and begging, and that flipped the switch of arousal inside me.
That was when everything changed.
In practically no time at all, the scene shifted to Eric being bent over the bed while I spanked his panty-covered ass to a bright red with a belt I'd taken out of my closet. (He had to be punished for touching my things without permission and for hiding this huge secret from me, after all.) And then, once his behind was red enough to suit me, I put that gigantic bottle of lube to good use, using it to slick up the largest dildo in the pile of toys on the bed. I used it to fuck his slutty little ass until he was a babbling mess and my arms were simply too tired to go on….And then I made him gather up all the clothes he'd taken from me and do the laundry.
That session represented a fundamental change in our lives. We were no longer a regular vanilla couple we looked like to outsiders. From that day forward, Eric became my humiliated sissy husband, and I am his Mistress. He lives under a set of strict rules and regulations now, and I supervise every aspect of his feminization training. He enjoys the humiliation and I enjoy dishing it out.
I believe catching him in act happened for a several very good reasons.   If I hadn't caught him I might never have discovered how much I loved sissy humiliation and putting my sissy husband in his place.  It certainly made my marriage more exciting.
Now call my sissy phone sex line and I'll put you in your place too, sissy. 🙂